Polymer clay creations filled with fun and whimsy!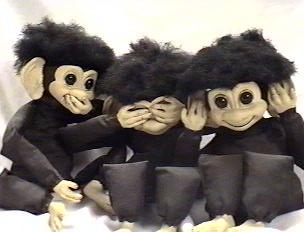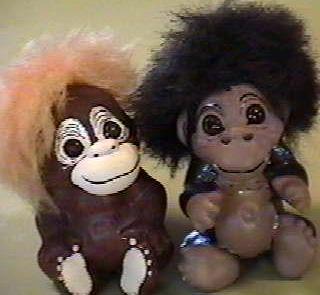 The "Three Evils" were once 3 troll hand puppets made by Russ. I removed their heads, dyed their hair black, made them chimp ears, hands and feet with Super Sculpey (which I painted), made their bodies from muslin which I also painted and wired them into position.
    The baby apes were once Norfin infants...I did a bit of plastic surgery on their faces with polymer clay and painted them.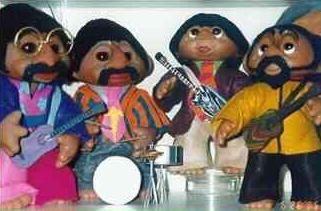 The Beatle trolls facial features were enhanced with polymer clay and their hair was painted. If I was doing them now I would make the hair out of clay, too.
    Lady Liberty was made from a Norfin "Penny" troll...her outfit and torch and crown are all made of polymer clay.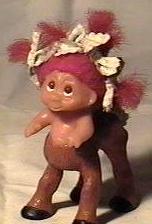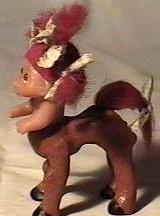 This Centaurette was inspired by the movie Fantasia...I cut off this little troll's legs (with plenty of anesthesia, of course!) and made the horse body from pc. I put all of the little hair marks on before curing and then painted it.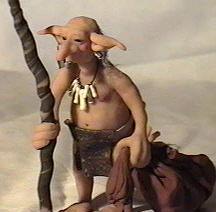 The troll on the left was made by me using Super Sculpey. His necklace and earring have dangling (poly clay) bones. His loin cloth is made from a cane made to resmble snakeskin.
    The troll on the right is my attempt at a beanie beby troll, although it was created before beanie babies became the rage. The body is made from felt. Head, hands, feet and tail are made from polymer clay. The only eyes I had were the "shake" kind, which is why he looks so wacky!



The kewpie troll was made by adding poly clay to the head, face and belly. Little poly clay wings were added to the back. This is one of my favorites!



More Trolls
VIEW MY GUESTBOOK
SIGN MY GUESTBOOK
5690